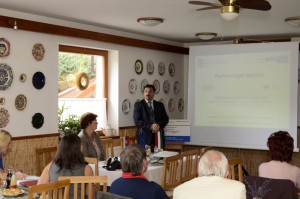 Dr Ferenc Kiss was speaking about the achievements and their utility of the project called "Jointly for a common language" at the meeting presenting the results of the project in Komlóska. After presenting the Foundation for Information Society, he said – among others – that on 1 October 2012, the Hungarian Foundation for Information Society (HU) together with the Slovak Association for Common Goals (SK) started the European Union project. The implementation of the "Jointly for a common language" program was done in the frameworks of the Cross-border Cooperation between Hungary and Slovakia . The aim of the project is to support SMEs near the border by a free service package and information system that can contribute to the development of their venture. The R&D Director of the Foundation told that within the frameworks of the project, a bilingual, electronic, video-based, text containing teaching web page (an eLearning system) was also established.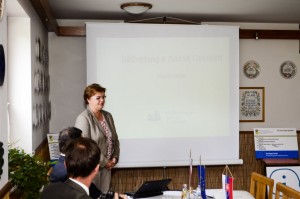 The easily understandable teaching materials in the system describe legal and economic background information characteristic of the countries, so they can be well used and provide practical assistance for the SMEs operating in any side of the border or for those who want to start their activities on the other side of the border. The subjects include entrepreneurial, financial, public procurement and call-writing information as well as tax related teaching materials.
A partner searching data base is another integral part of the project. The companies can share their project ideas with others and they can find an ideal partner in the region for the implementation of the project, thus promoting the economic and social cooperation of micro and SMEs along the borderline. This subject was told by the Director of the Slovak Association for Common Goals, Erzsébet Pogány. She provided information on the goals and achievements of SZAKC established in 2001, and she emphasized that the alliance of legal entities controlled by her are striving for effective partnerships between various institutions of Slovakia and Hungary. Entrepreneurs to reach these aims are supported by both final products of the "Jointly for a common language" project.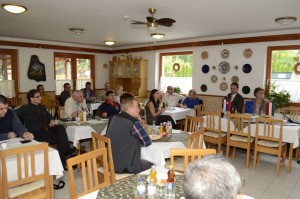 Managers and representatives of several companies from along the border line were present at the meeting and they were content to receive the project contributing to their work.